Tropical low 99p has now reached cyclone status, called Tropical Cyclone Donna. Now you can see why we are waiting to see where Donna will track to.
The wind on our route through the Coral Sea is currently blowing at 36 knots.
Will update you when this system dissipates.
Dirk
| | |
| --- | --- |
| New post on MetBob | |
The tropical depression that has been lingering around to northeast of Vanuatu got its act together last might and is now  a Cat 2 tropical cyclone called TC  DONNA.
It is heading southwest towards Sola in northern Vanuatu where it should arrive around 5pm Thursday local and intensify of Cat 3, with winds near  centre around 64 to 85 knots.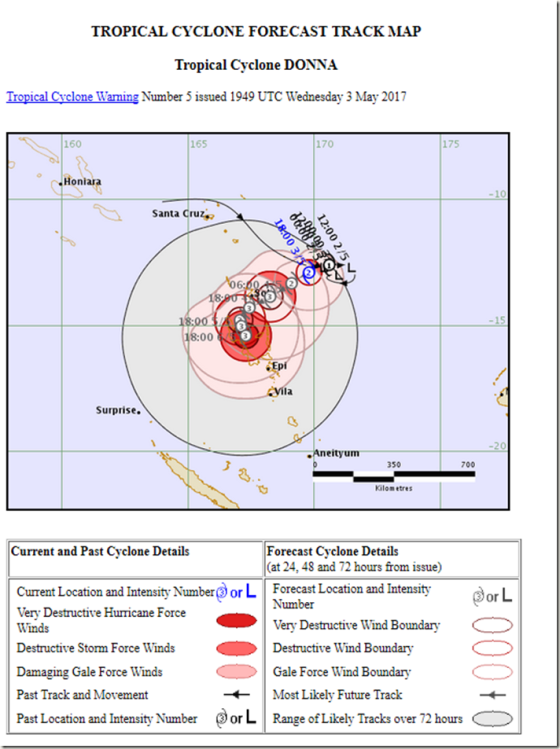 For an updated track map for TC DONNA see www.met.gov.fj/aifs_prods/65661.html
On Friday, TC DONNA is expected to maintain  Cat 3 and turn south-southeast-wards.   If it continues its current pace , TC DONNA ,  at this stage, is  likely to reach he  Port Vila area by  late Sunday.   Then it may  start  to travel faster and weaken passing the Tanna area around Monday.
Too far away at this stage to be sure,  but  next week as  TC DONNA leaves the tropics,  one likely scenario is for it be captured by the trough which is likely then to be moving from the Tasman Sea towards NZ .    This should take its remains south-eastwards towards  NZ's East cape  by around Friday 12 May.
Any vessels on their way from NZ to Fiji at present should aim for a waypoint east of their direct path so that they may be in position when the winds around Fiji turn to be from the NE early next week.   the trough that contains DONNA is not expected to get past 175E until after Wed 10 May
Any vessels stopping at Minerva are advised that  a large HIGH is now travelling east from the Tasman Sea across NZ this weekend and then off to east of NZ early next week.  This HIGH  enhances the trade winds on its northern side,  so there is likely to be  a period of easterly winds at Minerva around 20 gust 30 knots (maybe  a bit more) from end of Friday 5 May to Thursday 11 May ,  Then  a trough on Friday 12 /Sat 13/Sun 14 May.
Bob McDavitt